ORGANIC SHEEP´ S MILK SPECIALTIES FROM THE FARM SEEGUT EISL
The Seegut Eisl is an organically certified farm, located at Lake Wolfgang in Austria. For more than 30 years, we – Sepp and Christine Eisl – have been successfully raising sheep and producing organic sheep's milk specialties in our own cheese dairy. We run our farm with a lot of heart and soul. For us, sustainable management and the quality of our products is of the utmost importance.
TRADITIONAL FARM WITH HISTORY

Around 130 sheep graze at our Seegut Eisl organic farm, which is located at Lake Wolfgang in Austria. The farm has been run by the Eisl family for 500 years.
In 1982, we bought our first two sheep and since there was no dairy to take the sheep's milk, we decided to build our own cheese dairy, which was integrated into the farmhouse in 1992. Our farm is officially certified as organic.
WE ACT IN A SUSTAINABLE AND TOUGHTFUL WAY
For us, the top priority is to farm sustainably and organically for future generations. Environmental protection, sustainability and the responsible use of resources are therefore a must for us.
We only use renewable energy for the production of our specialties, and we operate our own biomass heating plant. This is operated with our own wood chips and a thermal solar system. In addition, only green electricity is used throughout the company. In 2022, a 1,000m² photovoltaic system was installed on the rooves, which covers the electricity requirements for the entire company. In our cheese dairy, we have Austria's first ice cream pasteurizer that can be operated with solar heat.
SHEEP´ S MILK PRODUCTS
For over 30 years, we have been producing high-quality sheep´ s milk products using artisan methods in our own cheese dairy. All EISL products like cream cheese, yoghurt, fruit whey and ice cream are made from 100% organic and high quality sourced ingredients. We use no premixes, artificial flavors, or additives.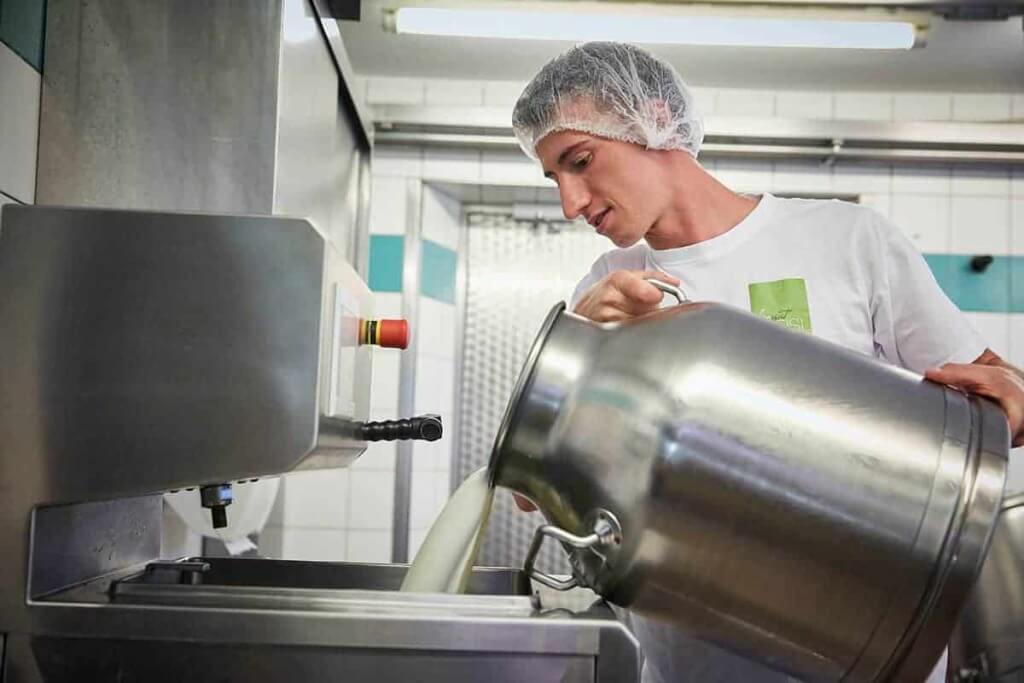 EXTRA CREAMY
Sheep's milk is different! In contrast to products made from cow's milk, sheep's milk products have a particularly creamy consistency. Above all, sheep´ s milk has a full-bodied, mild, fine taste, as well as a slight almond flavour.
BENEFICIAL TO THE IMMUNE SYSTEM
The sheep´ s milk is considered to be extremely good for protecting and building the immune system. This benefit can be explained biologically: the digestive cycle of a sheep is longer than that of other animals, so they can absorb many more trace elements, vitamins and enzymes and pass them through their milk to us humans. Sheep' s milk is richer in vitamins than cow´ s or goat´ s milk and contains many omega-3 fatty acids that are of great value to humans. Moreover, the fat molecules have a smaller structure, which increases their digestibility.
AWARD-WINNING QUALITY
We have already received over 100 national and international quality awards with our range of EISL organic sheep´ s milk specialities. For example, in 2018 we were the winner of the ´ Great German cheese test 2017/2018 ´. Moreover, Sepp received the CERES AWARD, the highest accolade for agriculture in the German-speaking-countries, for the ´ best organic farmer of the year ´ . We also received an award for ´ Austria's best ice cream specialty ´ and for the ´ second most popular ice cream parlour in Austria ´.
ICE CREAM PARLOUR
Since 2017, we have been offering sheep´ s milk ice cream under the brand name EISL EIS and opened Austria's 1st organic sheep milk ice cream parlour in the old town of Salzburg in Austria. Here, you can find 16 different ice cream flavours every day, from classic to extravagant or vegan. Moreover, we offer a free topping from the dark chocolate fountain, as well as crispy organic ice cream cones.


Address:
Getreidegasse 22, 5020 Salzburg, Austria (located in the passage at "Café Mozart")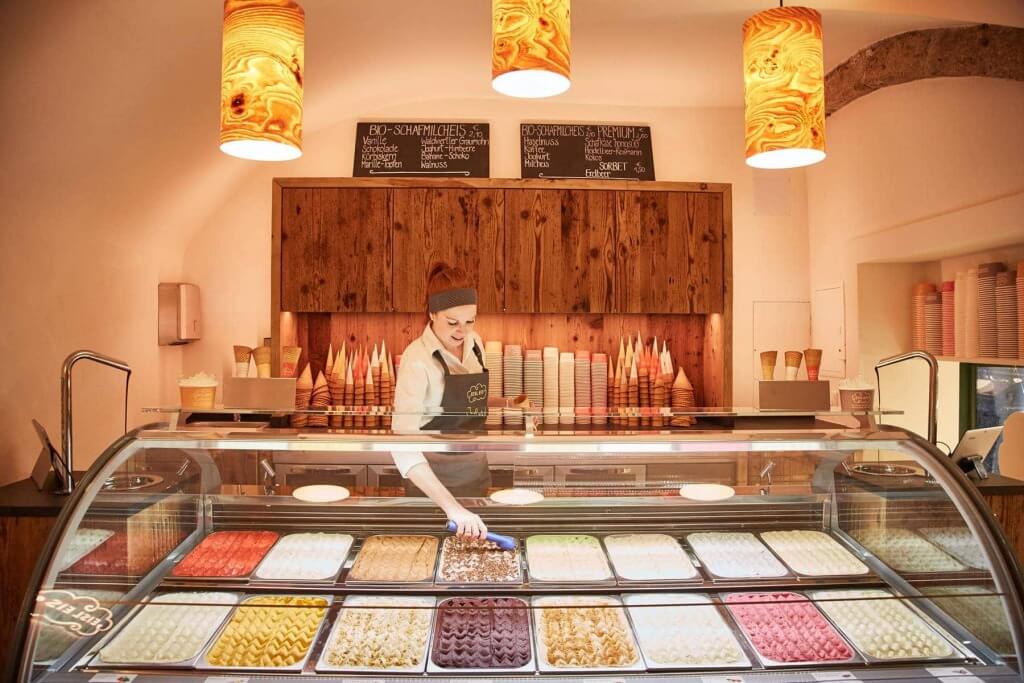 SELF-SERVICE FARM SHOP ´ WOLKE7´
Our own high-quality EISL products are available at our self-service farm shop WOLKE7 (Cloud7) at our farm Seegut Eisl in Abersee, which is located directly next to the bike path. Here you can also find selected organic products from all over Austria.
Shopping at WOLKE7 is not only a culinary pleasure. During the milking times, our customers can watch through a shop window how the sheep get milked in the milking carousel. And for those who want to refresh themselves after a bike tour with an EISL EIS ice cream or one of the cool organic drinks from the self-service farm shop, they can take a seat in the WOLKE7 Open Air Lounge, our outdoor ice dining area and recharge.
WHERE ARE EISL PRODUCTS AVAILABLE?
Our EISL products can also be found in delicatessen stores and selected supermarkets, as well as at restaurants and hotels in the area of Lake Wolfgang and Salzburg in Austria. Moreover, the ice cream EISL EIS is also available at our ice cream parlour in Salzburg and via dispatch within Austria.

HERE you can find a list and map of all companies at which you can purchase our sheep´ s milk products.

---
---
CONTACT INFORMATION
ORGANIC FARM ´ SEEGUT EISL´
Familie Eisl GmbH
Farchen 24
5342 Abersee, Austria
e-mail: office@seegut-eisl.at
tel: +43 6227 28028
opening hours self-service farm shop ´ WOLKE7´:
daily, 6 am – 9 pm
payment method: cash or card
ICE CREAM PARLAOUR ´ EISL EIS´
Getreidegasse 22
5020 Salzburg, Austria
(located in the passage at Café Mozart)
e-mail: salon@eisl-eis.at
tel: +43 670 6086212
opening hours:
during summer: daily, 11 am – 9 pm
payment method: cash